How many awards are Eric Clapton and Bonnie Raitt nominated for this year? Or are the Grammies taking a chance and going with more youthful acts like U2 or Coldplay?

UPDATE: According to today's news reports, the Grammy voters really moved to the avant garde last night by recognizing (over and over again) the ground-breaking talents of Beyonce and Taylor Swift. How can the MTV Music Awards compete now?
This evening, we saw the Indianapolis Symphony Orchestra (ISO) play Mahler's Songs of a Wayfarer, Faure's Requiem, and Dvorak's 7th Symphony. I had not been to an ISO concert since the orchestra parted company with its last maestro,
Mario Venzago
. The guest conductor this evening was
Pietar Inkinen
, currently Music Director of the New Zealand Symphony. The orchestra played beautifully under him, must better than I can remember it playing for Venzago. I hope Inkinen will return to Indianapolis often.
Usually there is a picture here of Mr. and Mr$. Bonddad's dogs. But Bonddad is writing this from his Iphone because BD is current at his new house getting it ready for the "big move". So -- there aren't any pictures, just a statement that it's the weekend and it's time to think about anything aside from the markets.

See you on Monday
Spencer R. Weart,
The Discovery of Global Warming
(Harvard 2008)
An interesting an well-written history of climate science and policy.
Volume 1 of David P. Currie's masterful
The Constitution in Congress: The Federalist Period: 1789-1801
(Chicago 1997).
I am also still keeping at Anthony Powell's A Dance to the Music of Time, which I nearly abandoned. I still do not feel completely gripped by the work, but I am increasingly enjoying it.
Orhan Pamuk,
The Museum of Innocence
(Knopf 2009)
I've read everything he's written since
Snow
(2004)
Rebecca Newberger Goldstein,
36 Arguments for the Existence of God
(Pantheon 2010)
Haven't read her work before, but reviews suggest a very intelligent and engaging read.
Christopher Andrew,
Defend the Realm
(Knopf 2010)
An authorized history of MI5.
Joel Mokyr,
The Enlightened Economy: An Economic History of Britain, 1700-1850
(Oxford 2010).
The FDIC has released its
Quarterly Banking Profile.
Here are the salient points.
Deteriorating asset quality concentrated in real estate loan portfolios continued to take a toll on the earnings performance of many insured institutions in first quarter 2008. Higher loss provisions were the primary reason that industry earnings for the quarter totaled only $19.3 billion, compared to $35.6 billion a year earlier. FDIC-insured commercial banks and savings institutions set aside $37.1 billion in loan-loss provisions during the quarter, more than four times the $9.2 billion set aside in first quarter 2007. Provisions absorbed 24 percent of the industry's net operating revenue (net interest income plus total noninterest income) in the quarter, compared to only 6 percent in the first quarter of 2007. The average return on assets (ROA) was 0.59 percent, falling from 1.20 percent in first quarter 2007. The first quarter's ROA is the second-lowest since fourth quarter 1991. The downward trend in profitability was relatively broad: slightly more than half of all insured institutions (50.4 percent) reported year-over-year declines in quarterly earnings. However, the brunt of the earnings decline was borne by larger institutions. Almost two out of every three institutions with more than $10 billion in assets (62.4 percent) reported lower net income in the first quarter, and four large institutions accounted for more than half of the $16.3-billion decline in industry net income.
Let's break this down into smaller chunks of information.
Higher loss provisions were the primary reason that industry earnings for the quarter totaled only $19.3 billion, compared to $35.6 billion a year earlier
Earnings were cut nearly in half because of the increased loan loss provisions.
FDIC-insured commercial banks and savings institutions set aside $37.1 billion in loan-loss provisions during the quarter, more than four times the $9.2 billion set aside in first quarter 2007.
Banks set aside nearly 4 times the amount of money for losses on a year over year basis. That can only mean one thing -- credit quality is seriously deteriorating.
Provisions absorbed 24 percent of the industry's net operating revenue (net interest income plus total noninterest income) in the quarter, compared to only 6 percent in the first quarter of 2007.
Loan loss provisions are literally sucking the life out of the industry right now.
The average return on assets (ROA) was 0.59 percent, falling from 1.20 percent in first quarter 2007. he first quarter's ROA is the second-lowest since fourth quarter 1991
ROA has fallen in half over the last year.
And the
problems mount:
Following restatements by banks, the FDIC revised the industry's net income for the fourth quarter of last year from $5.8bn to $646m – the lowest since the end of 1990.

Meanwhile, the FDIC said the number of "problem" banks rose in the first quarter from 76 to 90, with combined assets of $26.3bn. Three US banks have failed this year, compared with three for the whole of last year and none in 2005 and 2006.

Ms Bair said she expected more bank failures but emphasised that the number of problem institutions remained well below the record levels of the savings and loan crisis of the 1980s and 1990s – when one in 10 banks were in that category.

However, she said one worrying trend was the declining "coverage ratio", which compares bank reserves with the level of loans that are 90 days past due. This ratio fell for the eighth consecutive quarter, to 89 cents in reserves for every $1 of noncurrent loans, the lowest level since the first quarter of 1993.
Here are some graphs from the FDIC report.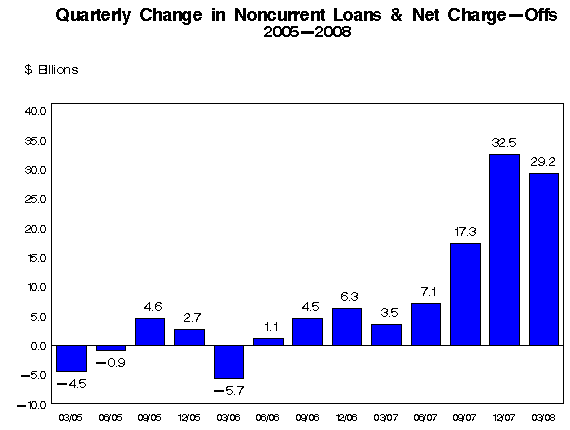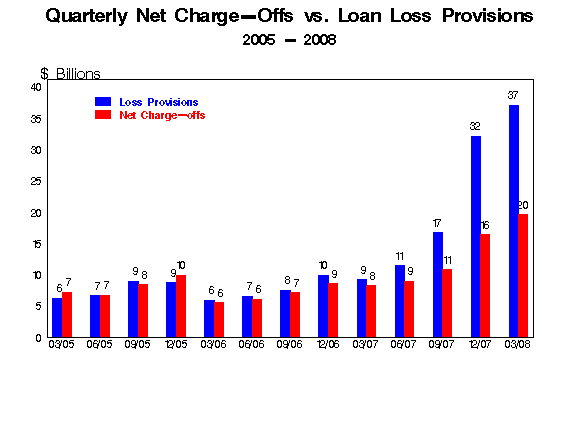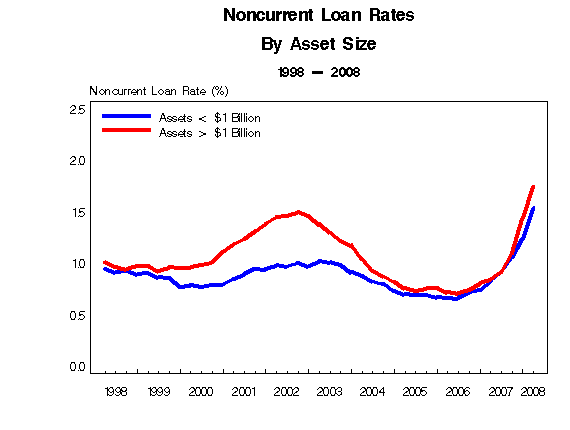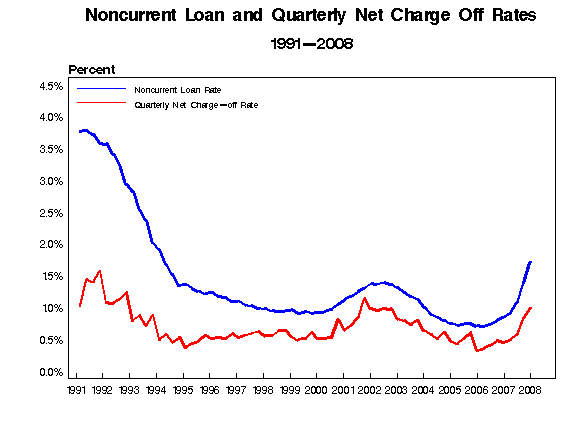 This report says one thing:
"While we may be past the worst of the turmoil in financial markets, we're still in the early stages of the traditional credit crisis you typically see during an economic downturn," she said, adding: "What we really need to focus on is the uncertainty surrounding the economy . . . and again it is all about housing."


Developed by the American Museum of Natural History

Hat tip: Jonas Dahlstrom's "Happiness" blog.
Having blogged within the past few days about both the
death of J.D. Salinger
and the
75th birthday of David Lodge
, I was interested to see in this morning's NY Times (
here
) a generally laudatory op-ed piece about Salinger's work by Lodge. Gives me a (no doubt false) sense that I'm somehow ahead of the curve here at the Law, Economics, & Cycling blog.
I see
via P.J. Anders Linder
, that Matthew Parris has written
a article in The Times
where he argues that free market advocates should root for Segolene Royal.
A seemingly bizzare idea given the fact that Royal is a radical statist who believes that France's already statist economy should become even more statist with even higher levels of regulations, government spending and taxes.
But the idea that he launches is that as Royal's economic plan will ruin France's economy, this will finally put France in the mood for radical free market reforms, just like the deep British crisis of the late 1970s with 20% inflation and growth far below that of all other countries put Britain in the mood for Thatcherism. This is also why he as a Iraq war opponent rooted for Bush in the 2004 election and is glad that Bush has put the "surge" strategy in action, as its inevitable failure will forever discredit neoconservatism.
There are however, several problems with this reasoning. First is of course the argument from Linder that we don't just live in the long run, but in the short term too and a Royal victory would mean more short term suffering. Secondly, and perhaps more importantly, while the likely crisis after Royal's policies are put in place will strengthen the free market case, statists will certainly come up with excuses for their failure. The ECB will certainly be blamed for not inflating enough (as both Sarkozy and Royal
already
argues). And Royal supporters will certainly argue that the policies weren't pursued zealosly enough, particularly not after the French general assembly likely stops some of her proposals. As implausible as these excuses might be, the people who want to believe them will believe them.
In 1981, Francois Mitterand pursued similar policies, but after the economy worsened, he was forced to change policies somewhat. But this failure haven't deterred the French from believing in statist policies. Just as the current failure of the "surge" (
with more than 100 American soldiers being killed in April
) isn't deterring neocons from believing that one day, Iraq can be transformed into a Western democracy.
Let's take a look at the charts of the three biggies -- the dollar, the euro and the yen.
On the weekly dollar chart, notice that prices have been falling through support areas for the better part of two years. Also note the 20 and 50 week SMA are both heading lower, although the 10 day SMA is leveling out. Also note prices and the 10 day SMA are tangled up. But the 20 week SMA has privided strong upside resistance for the last year and a half.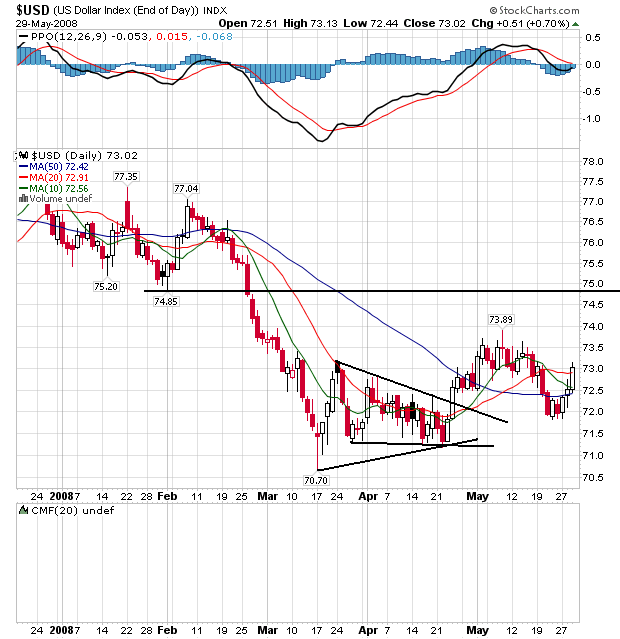 On the daily chart, notice the following:
-- Prices and the SMAs are bundled in a very tight range, indicating indecision.
-- The 50 week SMA is about to turn positive.
-- Prices have broken through all the SMAs and may be headed higher.
On the euro's weekly chart, notice it's the mirror image of the dollar chart. The euro has been rising for the better part of two years right now. Prices have continually broken through upside resistance to make new highs. Also notice the SMAs are all moving higher with the shorter SMAs above the longer. This is a bullish chart.
On the daily chart, notice the euro formed a broadened bottom from mid-January to the end of February, rallied until the end of April and has since been forming a triangle consolidation pattern. Also notice that prices and the SMAs are bunched together, indicating a lot of indecision on the part of traders regarding where to send the euro next.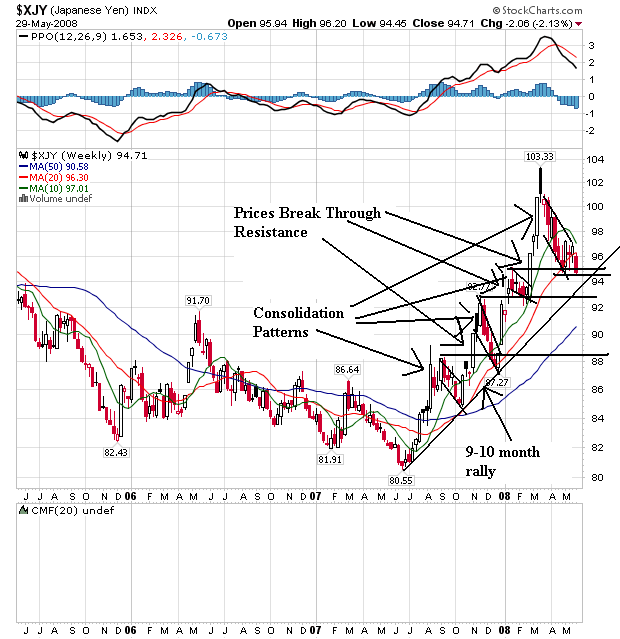 On the weekly yen chart, notice that prices have been sharply rising since the end of last summer. Prices moved through resistance on several occasions, but then fell back usually in pennant patterns. Note the 10 week SMAs has turned lower and is about to cross the 20 week SMA. Also note that prices are right below the 20 week SMA and recently fell through this important technical indicator.
On the daily chart, notice that prices rallied from the beginning of the year until the beginning of April. Then prices fell until the beginning of May when they started to move sideways. Also notice that prices and the SMAs are bunched together right now, indicating a lack of direction.
1. Alexander Volokh of Emory Law School has a very interesting new article in the latest issue of the
American Law and Economics Review
(Vol.11, 2009, pp. 399-450) on "Property Rights and Contract Form in Medieval Europe," which contributes to our understanding of medieval legal and economic history as well as institutional development. The article also happens to be elegantly written (despite the mathematical gymnastics). Here is the abstract:
Throughout western Europe, beginning about 1200, leasing of lords' estates became more common relative to direct management. In England, however, direct management increased beginning around the same time until the fourteenth century, and leasing increased thereafter. This article models contract choice as a trade-off between incentives and insurance. Leasing increases as living standards improve. In England, the increase in direct management can be explained by improved security of freehold tenure, and the increase in leasing can be explained not only by living standards but also by improved security of leasehold tenure.
A prepublication version of this paper is available
here
.
2. Economists Scott Barrett of Columbia University's Earth Institute and Michael Toman of the World Bank have an interesting new paper comparing and contrasting two general approaches to climate change mitigation: (1) the familiar "targets and timetables" approach, reflected in the Kyoto Protocol; and (2) a variety of "loosely coordinated smaller scale agreements," addressing different aspects of the problem.
The authors identify the following characteristics of any viable approach to climate mitigation: (a) global benefit should exceed global cost; (b) every country should gain individually from an agreement; (c) participation should be very broad; (d) obligations should be permanent, though subject to periodic revision; and (e) agreements should be enforced using credible mechanisms.
After illustrating how the Kyoto Protocol reflects the first approach - "targets and timetables" - to achieving mitigation, Barrett and Toman suggest several characteristics of a differentiated portfolio approach to mitigation. Among them: emissions of different greenhouse gases or gases from different sources, such as aviation and marine transportation, might be separately regulated; sector-specific agreements might be negotiated; separate agreements might cover land use and forestry-related issues; etc.
Barrett and Toman conclude, interestingly, that the "targets and timetables" approach could well be more cost-effective than the piecemeal approach, but the piecemeal approach might be more successful in actually reducing greenhouse gases because it would be easier to implement in light of barriers to collective action.
The full paper is available
here
.
Two big pieces of good news today.
Oil dropped
more than $4 (when was the last time I wrote that. In addition, the economy grew at a .
9% clip in the first quarter,
which was slightly higher than originally reported. But consumers only increased their spending at a 1% rate which is not that encouraging. The FDIC released the
Quarterly Banking Profile,
which was not that good.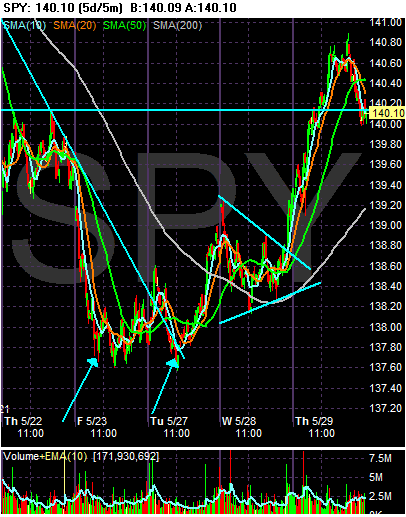 On the SPYs, notice the double bottom that formed on Friday and Tuesday. The market rose a touch from this formation, consolidated in a triangle pattern on Wednesday and then rallied hard today on the GDP and oil news. Also note the SPYs ended the session right at technical support levels.
On the QQQQs, notice there is a much better chart in play. The market has been rising and then consolidating gains since Friday of last week.
The IWMs are more in the line of the SPYs, largely because of their triangle consolidation a few days ago.
President Obama speaks to, and converses on policy with, Republicans.




Hat tip: Brad DeLong.
Writing in the Washington Post earlier this week (
here
), Yale Law Professors Bruce Ackerman and Ian Ayres suggest that one plainly lawful way to restrict corporate spending on election campaigns, after
Citizens United
, would be for the federal government to impose restrictions in all government contracts with corporations. According to Government Accountability Office (GAO) reports, approximately three-quarters of the 100 largest American corporations are federal contractors. Under Ackerman and Ayres's rule, those corporations would have to choose between doing business with the federal government or financing campaigns; they could not do both.
I have two questions about Ackerman and Ayres's proposal.
(1) Would it violate the unconstitutional conditions doctrine (on which see
this
)? Their own analysis suggests not, but given the current composition of the Court, I'm not so sure. It's not hard to imagine the Court concluding that an essential nexus exists between being a federal contractor and exercising First Amendment free speech rights.
(2) Is it a good idea to contractually limit the speech rights of some corporations, but not others? Given the diversity of corporations and corporate interests, wouldn't the public interest be harmed by limiting corporate speech to only some corporations? For example, suppose that Duke Power obtains government contracts and Exxon does not. I wouldn't be particular satisfied that Exxon, which has opposed climate legislation, could spend millions on political campaigns, while Duke Power, which supports climate legislation, could spend nothing.
Sandra Day O'Connor has belatedly dissented from the Supreme Court's decision in the
Citizens United
case, according to
this report
at ABC News.com. Unfortunately, her dissent does not affect the outcome, but does given an indication of how her replacement, Samuel Alito (the Justice who expressed disapproval of President Obama's remarks about the Court's ruling during this week's State of Union address), has moved the Court at least marginally to the right.
One of the first trends I noticed with the latest US expansion is the record amount of debt that was involved. Simply put -- this was a borrow and spend expansion like nobody's business. I'm not the only one
who has noticed:
Is Kevin Phillips right that something funny is going on in the economy? Yes, although just how funny is less clear.

The numbers do suggest he's correct about one thing at least: public and private debt has indeed reached unprecedented levels.

Recently, we described Phillips' thesis, in his new book "Bad Money: Reckless
Finance, Failed Politics, and the Global Finance of American Capital" that the U.S. economy has been run by a Washington-Wall Street mercantilist alliance for the benefit of the finance sector. See column.

Phillips doesn't flat-out predict that the resulting distortions will result in a crash. He says it's too early to say. But he meaningfully quotes a number of authorities, such as Yale economist Robert Shiller, to the effect that it will.

Phillips relies heavily on charts, which we like.
In this column, we look at one that is at the heart of his book: public and private debt as a fraction of Gross Domestic Product.

It looks like a barbell, with peak debt of 299% in 1933 falling to below 150% from the 1950-1980s, spiking again to a recent 353%. We've checked the numbers -- updating them to 2007 -- and he's right.
Let's look at a few charts to see what we're talking about.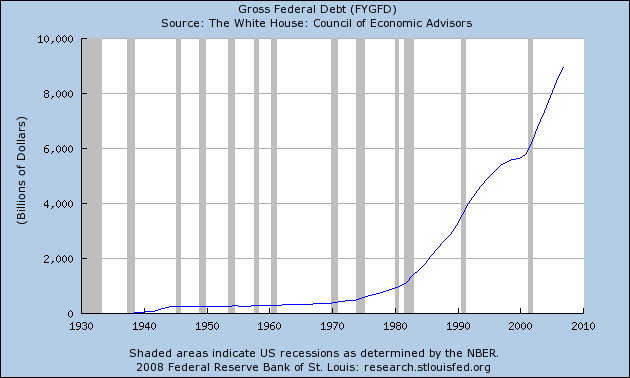 Total federal debt is huge.
Consider the following numbers from the
Bureau of Public Debt:
09/30/2007 $9,007,653,372,262.48
09/30/2006 $8,506,973,899,215.23
09/30/2005 $7,932,709,661,723.50
09/30/2004 $7,379,052,696,330.32
09/30/2003 $6,783,231,062,743.62
09/30/2002 $6,228,235,965,597.16
09/30/2001 $5,807,463,412,200.06
09/30/2000 $5,674,178,209,886.86
The current total is
$9,393,275,739,477.56
The the government isn't the only one borrowing.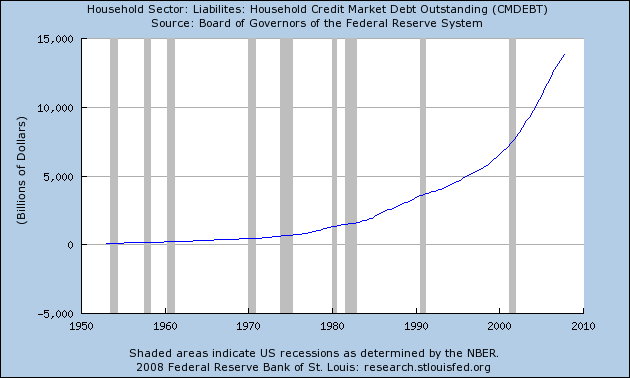 Total household debt is spiking, leading to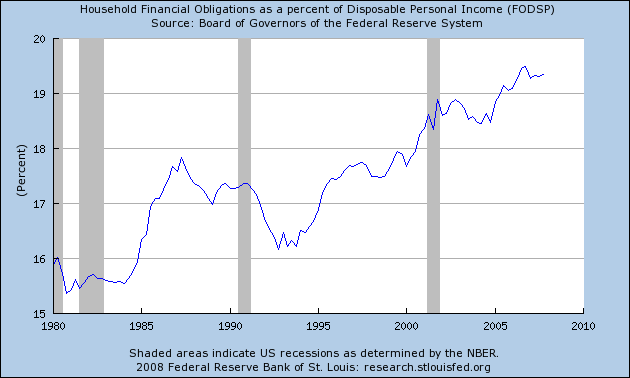 An increase in the household financial obligations ratio.
This has led to the following chart, which is from the original story above: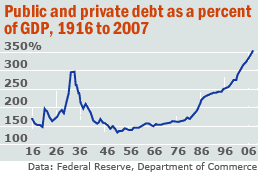 That can't be good.
Of course, a dollar, and by extension a trillion dollar, is gradually less and less worth due to inflation and depreciation, so becoming a trillion dollar economy is far less worth than it was in the past.
Nevertheless, it is still noteworthy, that
India's GDP have now surpassed the trillion dollar level
. This was reached a lot faster than expected as the Indian rupee has appreciated sharply during the most recent month.
Unlike the Chinese who have been foolishly dragging their feet and refused to allow any significant appreciation, despite
the enormous losses this implies
, India have allowed a really sharp appreciation during the recent month.
As late as March 19
, the dollar costed more than 44 rupees. Now a dollar cost just 40.8 rupee. This implies a 7.5% appreciation in less than six weeks. By contrast, the Chinese yuan
appreciated a mere 0.3 %
against the dollar during the same period. Indeed, during the entire 21-month period since the traditional 8.28 yuan peg to the dollar was loosened, the yuan has appreciated a mere 6.8%, less than the Indian rupee's gain during six
weeks
.
India's currency policy is much wiser than China's for reasons that I've explained before. Namely, that it achieves a certain level of monetary tightening by means that enables them to buy foreign goods at a lower price. The traditionally argued disadvantage to a stronger currency, namely job losses in the export sector, is not a real disadvantage as alternative tightening measures would have implied job losses too.
While India's wiser currency policy is not -particularly not in the long term- enough to overcome
the other structural disadvantages it has to China
, it certainly means that in the short- to medium term outlook I have become more bullish on India relative China, than I used to be.
The White House
Office of the Press Secretary
For Immediate Release
January 29, 2010
President Obama Sets Greenhouse Gas Emissions Reduction Target for Federal Operations
Target to Drive Energy Cost Reductions in Federal Operations, Creating Clean Energy Jobs
WASHINGTON, DC – President Barack Obama today announced that the Federal Government will reduce its greenhouse gas (GHG) pollution by 28 percent by 2020. Reducing and reporting GHG pollution, as called for in Executive Order 13514 on Federal Sustainability, will ensure that the Federal Government leads by example in building the clean energy economy. Actions taken under this Executive Order will spur clean energy investments that create new private-sector jobs, drive long-term savings, build local market capacity, and foster innovation and entrepreneurship in clean energy industries.
As the single largest energy consumer in the U.S. economy, the Federal Government spent more than $24.5 billion on electricity and fuel in 2008 alone. Achieving the Federal GHG pollution reduction target will reduce Federal energy use by the equivalent of 646 trillion BTUs, equal to 205 million barrels of oil, and taking 17 million cars off the road for one year. This is also equivalent to a cumulative total of $8 to $11 billion in avoided energy costs through 2020.
"As the largest energy consumer in the United States, we have a responsibility to American citizens to reduce our energy use and become more efficient," said President Obama. "Our goal is to lower costs, reduce pollution, and shift Federal energy expenses away from oil and towards local, clean energy."
Federal Departments and Agencies will achieve greenhouse gas pollution reductions by measuring their current energy and fuel use, becoming more energy efficient and shifting to clean energy sources like solar, wind and geothermal. Examples of agency actions that are underway are available on the White House Council on Environmental Quality website and can be found at
www.whitehouse.gov/ceq
.
On October 5, 2009, President Obama signed Executive Order 13514 on Federal Sustainability, setting measureable environmental performance goals for Federal Agencies. Each Federal Agency was required to submit a 2020 GHG pollution reduction target from its estimated 2008 baseline to the White House Council on Environmental Quality and to the Director of the Office of Management and Budget by January 4, 2010. The Federal target announced today is the aggregate of 35 Federal Agency self-reported targets.
Greenhouse gas emissions serve as a useful metric to measure the effectiveness of agency energy and fuel efficiency efforts as well as renewable energy investments. Agencies are already taking actions that will contribute towards achieving their targets, such as installing solar arrays at military installations, tapping landfills for renewable energy, putting energy management systems in Federal buildings, and replacing older vehicles with more fuel efficient hybrid models.
As a next step, the Office of Management and Budget will validate and score each agency's sustainability plan, assuring a long-term return on investment to the American taxpayer. To ensure accountability, annual progress will be measured and reported online to the public.
There are times when I could literally just scream at the incredible amount of political bullshit that goes on with economic numbers. It just boggles the mind and frustrates the analysis. So, instead of relying on the news media to inform us, we are now faced with the task of sorting through the noise. What fun indeed.
According to the
Census Bureau:
New orders for manufactured durable goods in April decreased $1.0 billion or 0.5 percent to $214.4 billion, the U.S. Census Bureau announced today. This was the third decrease in four months and followed a 0.3 percent March decrease. Excluding transportation, new orders increased 2.5 percent. Excluding defense, new orders decreased 0.3 percent.
This is where the first issue comes in. Notice we have the "ex-transportation factor" to deal with. Transportation orders represent about 25% of the durable goods numbers. In addition, transportation orders are very volatile. For example, suppose Boeing gets an order for 25 planes in a particular month. That would spike the overall numbers really high. But that reading would be a bit unrealistic as well because who knows when Boeing would get another order. So -- we usually get the numbers with and without the transportation variable.
What everyone is thrilled about is the ex-transportation number of +2.5%. That made everyone thrilled. But buried in the news headline is
this information:
The 4.2% increase in nondefense capital goods excluding aircraft followed three monthly declines in a row. Analysts pointed to export markets, a source of strength for the U.S. with domestic demand weakening.
Given that piece of information, it's just as likely that the increase was a one time event that occurred as overall orders were going down rather than up. At best, the most we can hope for with that piece of information is to wait until next month to see if the upward trend continues.
And then there is this:
Orders rose 4.2% for machinery, 2.8% for primary metals and a record 27.8% for electrical equipment. Orders fell 1.3% for fabricated metals and 1.5% for computers and electronics.

The concentration of strength in orders for electrical equipment prompted Goldman Sachs economists to express some caution "against ascribing too much significance to this report."
So -- the jump is from a few specific areas of the report, not an overall jump in all or a majority of orders. That should tell us something. Reuters
adds the following to that number:
However, electrical equipment orders surged 27.8 percent, the steepest increase on record, which analysts attributed to strong overseas demand that has been driven by a weak U.S. dollar. Machinery and primary metals orders also rose.

"The strength of global demand has greatly dampened the extent of the slowdown in manufacturing production, and in the light of today's orders numbers, it will continue to do so," said Nigel Gault, chief U.S. economist at Global Insight.
So -- overseas orders are probably responsible. This has been a good story for the US economy over the last half-year or so -- the increase in exports.
So, let's put all of these facts together to see what we come up with.
Durable goods orders ex-transportation increased 2.5% last month. This was the only increase in this figure in the last four months. Increases in machinery, precious metals and electrical equipment were responsible for the increase in the ex-transportation numbers. The most likely reason for the increase is the long-term downward trend of the dollar which makes US exports cheaper overseas.
Some analysts cautioned not to read too much into this increase because of the small number of areas in the report that contributed to the increase.
In addition, let's look at the general business background to see if all of this excitement about one number is warranted: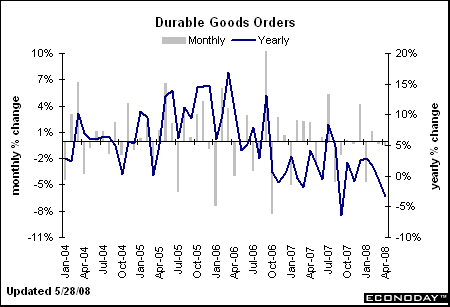 First -- the year-over-year change in durable goods is negative.
Companies are doing so well they are shedding workers, and
The unemployment rate is increasing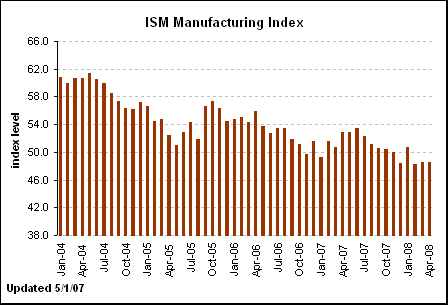 The ISM manufacturing number is below 50 and has been there a few months. This indicates we're in a contraction.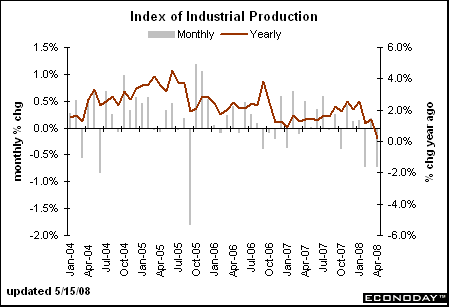 industrial production is dropping, as is
Capacity utilization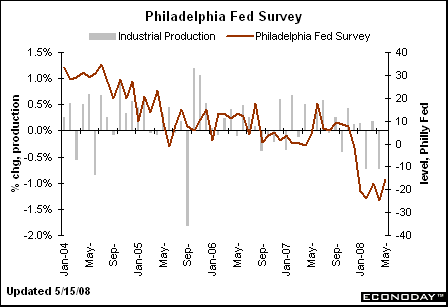 The Philly Fed is not doing as, and neither is the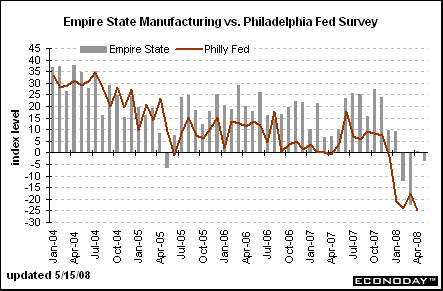 Empire state survey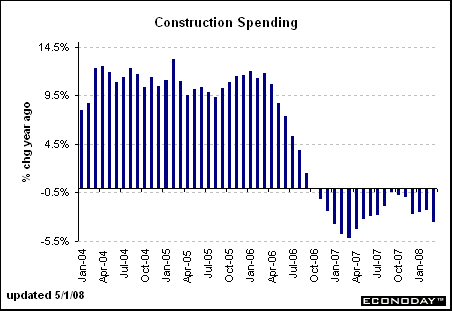 Construction spending is weak, as are
After tax corporate profits.
All of the above information says the number was a fluke and not the beginning of a trend. That could change. However, the great weight of the available evidence says no.
The Independent
has a regular pictorial feature on "The Best of..." various goods. Today, they feature "
The Best of the New Books
." I don't know about you, but I don't find such a list to be particularly helpful, when all they provide are photos of the covers of "the best" new books, 1 through 10, without any commentary explaining why
these
ten books are exceptional. It's also ironic that a newspaper, of all media, would opine about new books, of all things, in pictures rather than words.
Good Morning,
Wait, no, it's a Glorious Morning, Comrades! The central planners have good news regarding the health of their country… yes, it's true that 6 million people losing their jobs is really the same as creating 2 million jobs, and now we can rejoice in knowing that a failing economy is really growing at a 5.7% pace! Truly glorious!
And for that masterfully trumped up report we get slightly higher equity futures, the bounce in the DOW and S&P can be seen below. I left the DOW as a 30 minute chart so that you can see the channel boundaries. A rise above the upper boundary will indicate that wave 2 has likely begun, should it fail to pierce the boundary, then wave 1 is still in progress, having already lost nearly 700 points from top to bottom:
I feel embarrassed and ashamed to even talk about the GDP report. Disgraceful how far from reality that number is. And the fact that I, or anyone else, needs to waste so much time explaining why it's so far separated from reality is just sad. Let's start by remembering that on these quarterly reports they annualize the number, meaning that their measured growth was about 1.4%, and it will be undoubtedly revised downward in the subsequent revisions, the revisions become so huge that no one can possibly value this report as having any value or meaning at all. Also, you will not read the headline from the cheerleaders that 2009 GDP for the year was -2.4%, even with their trumped up numbers. Remember, GDP is measured in dollars, not anything real, it is then highly manipulated via the deflator and a multitude of other adjustments.
Here's Econoday's report, when you start looking inside at things like imports falling and inventory adjustments, it doesn't look so hot:
Highlights
Fourth quarter advance estimate of gross domestic product was up more than expected at an annualized rate of 5.7 percent. This was the quickest growth rate in more than six years. Analysts had expected an increase of 4.5 percent. The fourth quarter gain primarily reflected an acceleration in private inventory investment, a deceleration in imports and an upturn in nonresidential fixed investment that were partly offset by decelerations in federal government spending and in PCE. Real final sales of domestic product - GDP less change in private inventories - increased 2.2 percent in the fourth quarter, compared with an increase of 1.5 percent in the third.

The change in real private inventories added 3.4 percentage points to the fourth-quarter change in real GDP after adding 0.7 percentage point to the third-quarter change. Private businesses decreased inventories $33.5 billion in the fourth quarter, following decreases of $139.2 billion in the third quarter and $160.2 billion in the second.

Fourth quarter real personal consumption expenditures increased 2.0 percent compared with an increase of 2.8 percent in the third. Durable goods declined 0.9 percent, in contrast to an increase of 20.4 percent. Nondurable goods increased 4.3 percent, compared with an increase of 1.5 percent. Services increased 1.7 percent, compared with an increase of 0.8 percent.

Real nonresidential fixed investment increased 2.9 percent in the fourth quarter, in contrast to a decrease of 5.9 percent in the third. Nonresidential structures decreased 15.4 percent, compared with a decrease of 18.4 percent. Equipment and software increased 13.3 percent, compared with an increase of 1.5 percent. Real residential fixed investment increased 5.7 percent, compared with an increase of 18.9 percent.

Real federal government consumption expenditures and gross investment edged up 0.1 percent after jumping 8 percent in the third.

Slower inventory depletion is not the most promising way to guarantee growth and may indicate a slower rate of growth ahead until companies become more confident about the recovery. The biggest challenge to sustainable growth still remains with employment.
It's my contention that the real economy has not really grown at all in the past decade and that our stated total goods and services produced is DRASTICALLY overstated. Not just because of a falling dollar, but in large part due to the "growth" of financial engineering where assets are marked to model and hidden from view, yet counted as adding to our productivity.
Here's a link to the report at the BEA:
QTR 4 GPD
.
And here's a John William's Shadow Stats alternative GDP chart, while his calculations are showing far lower than BEA reported growth, I think that actual activity is substantially less but that cannot be measured due to the opacity of the shadow banking system and its effects on GDP.
The inability to produce reliable and realistic economic data is a MAJOR flaw of our current system. When we look back on what happened, what is occurring with the data will be a major contributor. If you can't measure what's happening, how can you make any valid decisions? This mislabeling leads to huge misallocation and the assumption of far greater risk than is appropriate. People who compare our debts to our GDP, for example, are NOT comparing apples to apples if they look at historic ratios. Our actual debt to GDP, since GDP is vastly overstated, is vastly understated.
This is why Freedom's Vision creates the Independent Data Panel that rolls all the government statistics into a single, completely Independent and transparent reporting agency. Their basic tenant is to produce accurate data, remove opacity, and remove any insider advantage.
1. Complete transparency is one of several, yet ultimately the final check and balance:

i. ALL data is made available to the public, free of charge.
ii. NO ONE, individual, firm, or politician is to have access to the data before the public. This prevents the insider advantage and again is a check and balance on those collecting and disseminating the data.
iii. Method of data collection and raw data MUST accompany all reports.


2. Statistics shall be separated and reported in three categories:

i. Raw data.
ii. Timeless data – methods shall be developed to report data in such a manner that the methods of calculation can be repeated and reported consistently over time. This ensures that future generations can compare apples to apples.
iii. Modern data – these are data that can be improved and changed over time. However, all such changes shall be completely transparent and shall always be presented with the raw data and with access to the way in which the statistic is compiled and calculated.
If you want to live in a nation in which you are proud, I would encourage you to support Freedom's Vision and take the money power back to secure our money, freedom, and future.
And in the more to be proud of department, our fine Senate yesterday voted to increase the deficit ceiling by a mere $1.9 Trillion:
Jan. 28 (Bloomberg)

-- The U.S. Senate voted to increase the federal debt limit by $1.9 trillion, to $14.3 trillion, a figure lawmakers said would be enough to accommodate borrowing for the rest of 2010.

The vote was 60-39 to send the measure to the House, which will take it up next week. The increase is more than twice the size of any of the four previous debt increases lawmakers approved in the past two years.

The party-line vote was a win for Democrats who fended off Republican attempts to force them to pass repeated, smaller increases in the debt ceiling before the November elections.

"Why $1.9 trillion? So that the Congress doesn't have to face up to the debt ceiling before the next election," said Senator Judd Gregg of New Hampshire, the top Republican on the Senate Budget Committee. "The people in this country have a right to know whether or not this Congress is going to do something about controlling the rate of growth in the debt before the next election."
Terrific to politicize this issue. Once again the central bankers are the ones who set up this system and it is they who profit from it while it shackles the rest of America.
$1.9 Trillion will only last until the end of the year?! And that's without counting all the other unfunded liabilities. How much money is that? Let's break it down…
$1.9 Trillion divided by 307 million, the population of the United States, equals $6,188. That's for every man, woman, and newborn, or equal to $24,755 for my family of four!
$1.9 Trillion divided by the BEA's 140 million workers in the United States equals $13,571 for every worker! Guess what, all four members in my family work – that's $54,284 for just my family, for just one year, it is just the debt on the Federal level and does not include prior debts, future debts, debts on other governmental levels, or INTEREST, which, by the way, at 5% adds another $2,714.
Does that math work?
Okay, let's do the same for $14.3 Trillion, our current account deficit at the end of 2010. First of all, at 5% interest (yes the interest rate is lower than that now, but we are spending TRILLIONS to artificially buy that rate down) the interest expense this year will be $715,000,000,000 (reported to be half that by the Treasury, again a number based on shoveling more money to buy down rates - this will come to an end). That's Billion with a capital B. Please keep in mind that our national INCOME is now only running about $2.2 Trillion, meaning that interest alone with 5% interest will take up about a third of our income.
Oh, and if we are running a $1.9 Trillion deficit, or more, in 2010, then our deficit just this year is nearly equal to this nation's income! You want to talk about math that doesn't work. Go ahead, Congress, and vote to keep increasing the ceiling, you might as well because game over occurred quite some time ago.
$14.3 Trillion equals $46,579 for every man, woman, and child.
$14.3 Trillion equals $102,142 for every worker, $408,571 for my family of four.
Again, this is without counting any future liabilities which drives the national level indebtedness to well over $1 million for just my family alone.
Is it fair to say that it's time to step outside of the central banker DEBT backed box? I think so.
Now, how does this administration handle this? Well, they see that wages are not going up and they see that businesses are not hiring, so why not just make every new hire in the nation a government employee by giving businesses $5,000 for each person they hire? Sure, we can afford to do that with our debt backed money, surely that will help Americans right?
NEW YORK (CNNMoney.com) -- When President Obama called last month for a new tax break to spur job creation, critics blasted him for offering no specifics. On Friday, Obama plans to fill in the details: He wants to give businesses a $5,000 tax credit for each net new employee they hire this year.

Job creation "must be our No. 1 focus in 2010," Obama said Wednesday night in his State of the Union address. "We should start where most new jobs do -- in small businesses."

Obama will travel Friday to Baltimore, where the local unemployment rate is nearly 11%, to unveil his tax-cut road map. The $5,000 per-worker tax credit he's calling for would be available to businesses of any size, and would be retroactive to the start of the year. Startups launched in 2010 would be eligible for half of the tax credit.

Obama is also proposing a reimbursement of the Social Security taxes businesses pay on increases in their payrolls this year. Firms could earn the credit by raising wages or increasing the hours of their current workers, as well as by hiring new employees. The tax credit would be adjusted for inflation, and would not apply to wage increases above the current taxable maximum of $106,800.

The proposal will cost $33 billion, according to estimates released by the White House, which expects 1 million businesses to benefit from it.
$33 Billion isn't anything, is it? And what do you suppose the unintended consequences of this little ditty might be? Wage inflation? More devaluing of our dollar? Is this really America? Do people really think that can work in anything but the very short term? I swear it's like living in some sort of fantasy nightmare, somebody please wake me up, okay?
I had a bunch of charts to show you, but this is taking far too much time to get posted so I just want to say that the downward channel has broken to the upside, and that we formed a descending wedge over the past couple of days that has now also broken to the upside, meaning that it appears that wave 2 up is beginning.
I'll try to have more technical stuff as I have time, but I think the fundamental landscape is far more important at this juncture. Those who think that the debt situation is workable are simply mistaken. There's a brick wall up ahead and we're doing over 100 mph straight at it. Eh, what's another $1.9 Trillion, just another brick in the wall…
Pink Floyd - Another Brick in the Wall:
On the P&F chart, notice one clear point: prices have continually made new highs by breaking through key areas of resistance. Also note this have been going on for some time.
On the weekly chart, notice the following:
-- Prices have continually made new highs
-- Prices have always consolidated gains
-- Prices are above all the SMAs
-- All the SMAs are headed higher
-- The shorter SMAs are higher than the longer SMAs
On the daily chart notice the following:
-- Prices have continually made new highs
-- Prices have always consolidated gains
-- Prices are above all the SMAs
-- All the SMAs are headed higher
-- The shorter SMAs are higher than the longer SMAs
Notice that the points for the weekly chart all apply to the daily charts. Simply put, both charts are extremely bullish.
Also note the gas prices are still higher than
this time last year: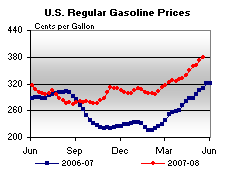 And gas stockpiles are dropping: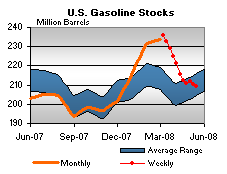 Also note the diesel gas is very high: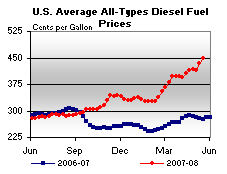 And gas prices are still hitting highs:
The U.S. average retail price for regular gasoline climbed to another all-time high, going up 6.9 cents to 379.1 cents per gallon. This was the eighth consecutive week for the national average price to increase, with the cumulative change totaling 53.2 cents. All regions recorded price hikes, with the East Coast jumping by 8.2 cents (the most of any region) to 379.5 cents per gallon. The average price in Central Atlantic portion of the East Coast surged up by 9.5 cents to 382.4 cents per gallon, 74.2 cents above the price a year ago. The average price in the Midwest went up 6.3 cents to 379.9 cents per gallon. The average price in the Gulf Coast region was 368.9 cents per gallon, a jump of 7.3 cents. Increasing by 7.7 cents to 368.6 cents per gallon, the price in the Rocky Mountain region remained the lowest in the country but only by a mere three-tenths of a cent. Once again, the average price for the West Coast was the highest in the nation, moving up by 5 cents to 388.3 cents per gallon. The average price in California rose by 3.3 cents to 395.2 cents per gallon.
Popular entries
Good Morning and Happy New Year's Eve! Stocks continued their upward momentum after the bell yesterday and are higher this morning. Below i...

Good Morning, Equity futures are higher again this morning, the dollar is slightly lower, bonds are higher, oil and gold are also both sligh...

Good Morning, I'm back! Turns out that Arno has a broken ankle and will need about 6 weeks to heal. Fun while it lasted, it's a very difficu...

Since I had so many people ask for a sharable version of this article, and because I think I'm seeing debt based money lightbulbs come on, I...

While a rational analysis would have argued against any cut , and while a 25 basis point cut seemed slightly more likely, a 50 basis point ...

Interesting article about how Hong Kong's peg of its currency to the U.S. dollar creates increasing problems now that Helicopter Ben dec...

Yes, it's time once again, boys & girls, for Uncle Jay to explain the week's news...

Today's numbers from the Euro area clearly illustrate why the ECB's decision to cancel its rate hike was highly irresponsible. While...

Ken Green of The American Enterprise Institute sums up the fallout from Climategate : Most troubling are the suggestions that a tribe of inc...